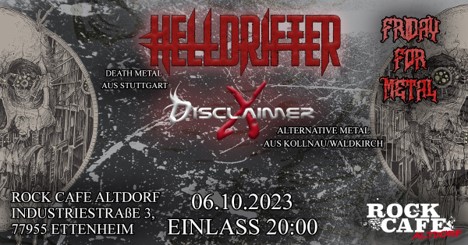 Helldrifter
Helldrifter is a death metal band from Stuttgart southern Germany, with some influences from thrash and melodic death metal. It is heavily inspired by death metal giants such as Carcass, Cannibal Corpse, Death and At The Gates. The music can go from straight thrash to more complex death metal parts, when the melodies are present it can take you to harmonic paths that remind bands such as Children Of Bodom or even Dark Tranquillity. The band's lyrical themes are focused mostly on mysticism, sociological issues, horror movies and video games, with a heavy dose of surealism.
X-Disclaimer
The band X-Disclaimer was founded in the year 2007. Created by four people in search for completion. As a revival of art it instantly became an ignition of high passion and self-esteem. Getting eager to fulfill life with music. To perfect the inception. To spread the feeling of burning on the inside. Rooted in Alternative Metal, X-Disclaimer spreads its limbs into Grunge, Hard Rock and Heavy Metal. Get up. And join this down the life !
Klickt einfach auf interessiert oder zusagen um eine Meldung zu bekommen sobald wir weitere Infos haben.
_____________________________________________________
Der Eintritt frei – der Hut geht rum.
20:00 Uhr Einlass
ca. 21:15 Uhr Konzertbeginn
Whatsapp Newsletter zum Programm im Rockcafe: 
https://www.kuschmie.de/wa-nl/